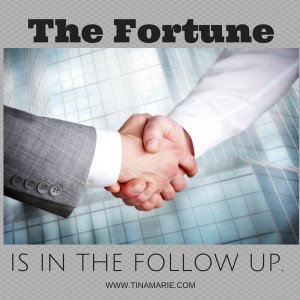 THE FORTUNE IS IN THE FOLLOW UP
by Tina Marie Jones-St.Cyr
When I train sales people, seasoned business owners and new entrepreneurs in prospecting and 'getting the deal' I stress that the most important part of the sales cycle is THE FOLLOW UP.
Most deals fall off the radar or into the competition's hands due to lack of a follow up plan.
When we do not follow up on a timely basis, with professional intent, we, as sales people, have shot ourselves in the foot. If all we do is research the client, book the sales call, go on the sales call, leave with some information that requires a next connection, maybe even send a thank you note and do not ever follow up… we have merely done busy work and not taken action on the most important part. Sometimes it takes 4 – 6 follow up touch points with a client before they buy. 
Through the 'prospecting' cycle, we have identified, elevated and at times, created a need for a solution in our prospect's mind. We leave them curious, expecting more, and  in a place where they feel a need yet are still unsatisfied.
Savvy customers will go research the competition or other solutions on the market. If we do not act fast, we leave the door wide open for another person to save the day for our prospect who we teed up and 'got ready'.
More importantly, when we do not follow up in a timely manner, we open the door for one of our biggest enemies as a sales person, our own self doubt. Hesitation always leads to ineffectiveness and the further fueling of self doubt.
What I have seen, and realized for myself and my clients, is a 40% and higher increase in the deals that are closed based on a few easy to implement follow up strategies.
First, at the end of the sales call, when your prospect has received information about your services and wants to "Think about it" or "discuss this with ____ (insert name of other decision maker), a sales person must press to understand a time frame in which this 'decision' will be made and when they will follow up.
Instead of asking how long it will take to make the decision … take the assertive position and schedule your follow up with them right then.
Use this simple script…
"Great, I understand. Since we are both busy, let's go ahead and schedule when we can chat again so the time does not get away from us. I can meet you again on ____ at ____, does that work?"
Take the time right then to place the appointment on your calendar and watch (if you are in person) as your prospective client does the same. They usually will follow your lead and place a calendar item on their schedule.
Be sure to identify the need to invite other decision makers to this next meeting so as to avoid any additional delays or reasons why the customer cannot decide to move forward.
Confirm the time, day, place, and if the follow up is to be over the phone, confirm the phone number too. All of this activity, although it may seem redundant, actually cements in the follow up appointment with the client and lessens the willingness of them to reschedule.
Schedule the follow up… it is crucial and it produces so many more sales!
Scheduling Follow Up Time in Your Day
The next level of follow up I teach my audiences, is to block off time in your calendar EVERY WORK DAY to follow up with your pipeline.
The most successful sales people (fill in your profession as we are ALL sales people) SCHEDULE THEIR FOLLOW UP ON THEIR CALENDAR.
A dedicated block of time is best. What works even better is setting your follow up block of time at the same time every day. Make follow up – that dreaded monster – become a regular habit. You will love the wins you begin to experience!
A Few Follow Up Tips
Having authentic follow up scripts that feel natural to you will work wonders.

Seeing yourself as serving prospects/customers and not bothering them is key.

Identify the different ways you can follow up with a client/ prospect and aim for completing the most effective means of follow up

Slow down and stay methodical with your follow up, rushing or skipping steps will sabotage your new good habits

Blocking off the time and keeping it protected from other items that want to steal the time guarantees your success.

Train others that you are not available at those times by keeping to your plan.

If you steal away time from your follow up schedule, block off another time THAT DAY to get your follow up time in. If you cheat on yourself… that is the worst offense.

Add to your voicemail a portion of your message that informs the caller that you call on new customers between _____ and _____ and will gladly return their call after ____ set the time.

If you do not believe you have anything to follow up on… send a joke, quote or great picture to your prospects/customers via email or text to stay relevant, connected and in your prospect's mind.

Discipline, Discipline, Discipline! It takes training ourselves that The Fortune is in the Follow Up! Stick with scheduling the follow up and report back to me when your income starts soaring through the roof!
For more "The Fortune is in the Follow Up" sales training using Tina Marie's Freedom Framework, reach out and book a complimentary consultation for your team.
Tina Marie Jones-St.Cyr is the Founder of the Human Dynamics Institute, Creator of The Freedom Framework for Sales & Leadership, Author of Abolish Your Inner Saboteur™, The Focus System, Fortune is in the Follow Up, Energetic Teams, and The Deep Dive Business Accelerator System. She has been retained by major corporations worldwide, government institutions, universities, small businesses and entrepreneurial forums to train their teams and executives on energetic leadership. She has won numerous awards for her unique views on leadership and human energy in the workforce. Tina Marie leads the Houston Mastermind, Entrepreneur Night and E Circle groups as well as provides corporate training and coaching both in person and virtually through the web. For more information, email her offices at [email protected] or  call her offices at 888-721-4204.